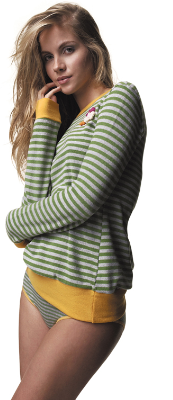 Did you know that if there's a group of ten smoking hot women at a bar or party…at least ONE of them likely has the "built in chemistry" to want you?
Unfortunately, you've been fed the BIG LIE from society that women are only attracted to guys who are good looking, tall or rich…
See all throughout history, society has separated men from women for this very reason. This is why dates had "chaperones" to prevent hanky-panky from going on and why even now some cultures still cover women from head to toe.
Even in America, women are very aware of this phenomenon. That's why women drag each other away from men as soon as the interaction starts to heat up…
So the good news is, if you're a relatively healthy male, a woman's biology is already conditioned to mate with you under the right circumstances…
And if you want her tonight, it's a lot easier than you think….
This Is How It Works…
When you meet a woman who you feel a spark with…
You amplify that "spark" with SEXUAL TENSION
Get her to silently agree to it (I'll show you how in just a second)
And then quietly take her by the hand to where you can be alone
Sound too easy?
Well, most likely you've been lied to about what really creates sexual tension.
Think about the idea of social TENSION for a second
How do people break a tense moment?
By talking…laughing… joking… or changing the subject
Now if the tension is "bad" (like say… an awkward moment at work) then talking or laughing is a pretty good idea if you want to get rid of it.
But what if the tension is "good"?
What if it's SEXUAL TENSION?
… where a woman is feeling compelled to imagine what it would be like to be with you
Ever get that feeling when you're gazing into a woman's eyes… and she licks her lips… and you start imagining what it would be like to kiss her…
It's so HOT, that you start feeling flush
Because if she doesn't either make out with you or leave…she's going to be turned on
And if a friend's not there to drag her away….she's going to be with you tonight
…Unless You Make This Deadly Mistake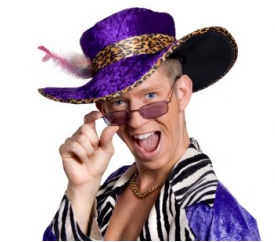 Now what do most "pickup gurus" tell you to do when you get a girl to this point?
They say "Tell a story… tell a joke… get her laughing… tease her… be cocky-funny bro."
Really?
That's like taking her raging FIRE of attraction…
And DUMPING A COLD BUCKET OF WATER on it to extinguish the flames.
Notice how comfortable she looks after you break the tension with a joke?
Yep, she's laughing and having a lot of fun… and now she's also miles away from being with you.
You were actually closer to getting her when you first met and made seductive eye-contact…
Let me tell you straight up…
Any girl you've gotten a "sexy look" from in conversation, where you were getting turned on… and she looked like she was getting turned on…
You Could Have Had Her…
But instead… you tried to think of something clever to say, or you came up with a lame joke… or you changed the subject…
Yep, you broke that "sexual tension" and all of her attraction for you disappeared…
But the days of going home alone are officially over…
You will never "blow it" with a girl you really like again…
Because from now on, you will be using my "secret weapon" for dating success called…
Nature's "Auto-Seduction" Mechanism
"Auto Seduction" is a simple three-step system any man can use, because it leverages the natural process that have caused men and women to mate for thousands of years…
This system is so simple you can get started tonight
Step 1: FIND the women you have a spark with
Step 2: AMPLIFY the sexual tension to the point where you can get her alone
Step 3: AROUSE women to the Point of No Return
This is THE system for finding the women out of the crowd who are already want you
Now, as I've said, you have to say VERY LITTLE to get a woman hot and bothered, so I've kept the "what to say" portion very lean.
What I've given you instead is a process for how to find the woman most likely to go home with you (the ones you think are insanely hot).
It's like a metal-detector for interested women.
It's so easy that you could go out and use it tonight (And I'll show you how very soon)
This method works…
Even if you're totally shy and not in the mood to talk to anybody
Even if you're absolutely terrified of approaching women (Approaching isn't required, did you know that?)
Even if you're drunk (well, it happens)
Since "opening" or starting conversations is the thing that guys seem to have the most trouble with, I've made this process rejection proof…
Including…
3 techniques to make a woman think it was her idea to come talk to you. (So she'll remember your first meeting as "I thought he was hot and had to go meet him")
A surprisingly under-used tactic to make a woman ask if she's met you before (You sort of "hack" her brain to make her see you as very familiar) Page 35
How to make your interaction look to the rest of the world like it's an instant attraction with sparks flying instead of "guy hits on girl".
My easy color-coded method to finding out which women in the bar are most eager to be with you right away.
Because this is so under the radar, you can use this when you're out with friends, by yourself, or at a networking event…
If you've been told it takes HOURS, or DAYS or even WEEKS to get a woman attracted you, this is a HUGE LIE you need to rid yourself of right away.
All you need to do is:
Escalate the vibe with her
Make the right physical connection… (Using only your hands)
Get her out of there
No matter how microscopic that spark is, you can turn it into a blazing fire
You do this by
Escalating the Vibe:
You do this with seductive eye contact (pg 18)… standing the exact distance apart, (Page 25) and keeping the right facial expression no matter what she says (Page 31)
You'll make the physical connection and with her body language, … and then you plan your next move.
Once you know this material, you will extinguish any neediness you have when you go out to meet women… because you'll know the real deal.
Automatic Seduction is a dating solution that uses "undetectable" attraction techniques. So if you want to seduce beautiful women without coming across like some creepy pickup artist …then I invite you to take advantage of today's offer and get all 4 Books (PDF's) for just $67.
The Seducers Mastermind Club (Free Trial)
And just to make sure I help you master all of the materials you will also receive a 30-day FREE Trial to The Seducers Mastermind Club with your order. The Seducers Club is my monthly coaching program where every month you will receive a 1 hour audio training on approaching and attracting women (the audio files come in mp3 format and will be sent each month by email). If after 30 days you like it and decide you want to stay on you will only be billed $39.97 a month for 5 months and you can cancel your membership anytime.
Let's Get Started (The Important Details)
When you click the yellow "add to cart button" you will be taken to a secure download page. Then after you complete your order you will be taken to the product download page where you will be able to instantly download the 4 Books (in PDF format) and also register for your FREE 30-day Trail of The Seducers Mastermind Club. Plus, if you ever need support I can be reached anytime chris[at]completegamesyetm.com
All products also come with a 60-day no questions money back guarantee
Today's Payment: $67
To Your Success,
Chris Andersen
Please Note: Your order will only contain digital items (pdf's, mp3's) that can be downloaded instantly. You will NOT be receiving any physical items with this order.